A DAY AT OUR PATIOS from Diego Guardia on Vimeo.
Hacienda Sonora is a farm located in the Central Valley of Costa Rica, at the foot of the world renowned Poas Volcano. The farm's area is approximately 100 hectacres, which is composed of 65 hectacres of shaded coffee, 25 hectacres of wild forest reserve, and 10 hectacres of sugar cane. The average altitude is 1,200 meters above sea level. InterAmerican Coffee is a long-time partner with Sonora, and is currently offering their Venecia Natural, Honey Natural and Natural El Cerro.

Venecia Natural:

The Venecia Natural is 100% natural processed and comes from the Caturra varietal. It was developed via natural selection in the area of "Venecia de San Carlos, Costa Rica". This plant looks like a dwarf caturra. which takes very long to rippen (this helps to create very high brix content). It's known for it's rich acidity.
This coffee is sundried for 14-18 days and covered with black plastic every day at about 3pm to keep its heat. When it gets to 18%-20% we store it for 6 days and then bring it back out. This is one of our tricks to enhance cup quality and uniformity. Right at the end of the drying process we put the coffee on a drum dryer for about three hours. This creates even better uniformity in the cup. Mass temperature never exceeds 37.5 C.
Cupping notes: nutty, cocoa, chocolate, berry, creamy body
Honey Natural:

The Honey Natural is a blend of 50% Black Honey processed coffee and 50% natural processed coffee. Black honey process means that those coffee beans were processed with 100% of the mucilage still intact. Honey Natural "Red gold" Developed as an espresso base or single origin espresso and nick named Red gold for the velvety crema it produces Sonora honey natural is a blend of all the farms varietals.
The honey natural process is a dry mill blend of all their varietals and process. The coffees that go in this blend are processed more efficiently than others and create a very good cup.
Cupping notes: strawberry, berry, savory
Natural El Cerro: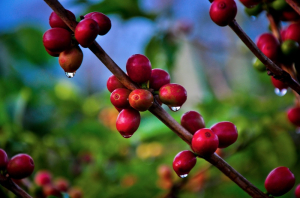 The El Cerro natural is 100% processed natural. El Cerro is the name of one of the parcels at the Sonora farm, processed just like the other naturals. The varietal is Red Catuai and it's harvested the same as the other coffees at Sonora by picking only the real ripped cherries. They tend to have pretty consistent cups with varietals through the different plots, however the El Cerro one was particularly different this year.

Hacienda Sonora specializes in honey and natural process for distinct and unique cup profiles for different varietals such as Red Catuai, Yellow Catuai, Venecia, Borbon, Geisha, Villalobos and Villa Sarchi. Sonora classifies their honey process types as Black Honey, Red Honey, Yellow Honey and White Honey depending on the process used in the pulping stages; Black honeys are pulped directly into a wagon that goes to the patios, with 100% of the mucilage intact. Red honeys maintain 80% of their mucilage when fermented, then pumped into the patio. The Yellow Honeys maintain 60% and the White Honeys maintain 40% of mucilage during the fermentation stage. Using the Honey method saves over three gallons of water per pound of coffee, and the Natural process doesn't use any water.

Alberto Guardia began growing coffee at Hacienda Sonora 45 years ago. Diego Guardia was born and raised at Hacienda Sonora, and obtained a Mechanical Engineering degree at San Diego State University in his early 20's. After he graduated, he worked for two years as a construction engineer in the State of California before returning home to work with his father to improve and maintain the family operation.

Sonora's coffees grow in an environment surrounded by exotic trees and other vegetation, providing a great condition for quality, as well as improving the chemistry of the already naturally rich volcanic soil. Thanks to the farm's diverse ecosystem, many different species of birds and animals seek refuge in the land.
Sonora has a well-known reputation for commitment to quality micro-lots, specific varietal and processing separation, and fulfilling their goal to leave a positive impact on the environment and people that surround their business. All of the energy consumed by the farm is 100% renewable energy harvested on the farm powering the mill and electricity for local workers.

In 2010, Diego began to also work for InterAmerican's "sister" company CECA Palmichal Coffee Mill and exporting company in Costa Rica to focus on a micro-lot program. In 2015, the Palmichal Micro-Mill began by processing up to 5 to 100 bags from 1,200 specific micro-lot farm and varietals. Ceca traditionally sources SHB, Fancy SHB and Tarrazu green coffee from over 2,000 coffee growers in the Tarrazu region. Their nursery program experimented with planting 350,000 plants in 2016 with high quality rust resistant materials, and offers special financing to coffee growers. Ceca buys various qualities from over 80 suppliers throughout the country and works hard to fill specific clients' needs.